Houston Roofing
Serving Houston, Austin, College Station, and Other Lone Star Cities
Your Source for Wood Roofing, Shingles, Metal & Flat Roofing in the Houston Metro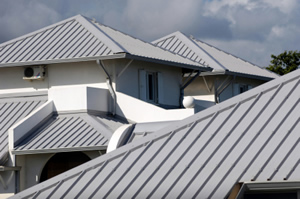 Dealing with roof replacements or picking out new roofing for a new house or business can be a little overwhelming when faced with all the features, prices and brands available on the market. It can be difficult to decide on a product, let alone the "right" product for your project. Let the Houston roofing experts at Roofs R Us take the stress out of your roofing project by guiding you through our selection of high quality, top performance roofing products we can install that will suit your needs. From roofing shingles to durable metal roofing, classic wood roofing, to commercial grade flat roofing, our Houston roofing contractors offer valuable advice and quality service throughout the entire residential or commercial roofing process for our clients.
Roofs R Us offers a variety of roofing materials from trusted manufacturers such as GAF, CertainTeed, and Owens Corning. These companies are known for producing high quality roofing products that are both attractive and durable, meaning you'll get an incredible value and manufacturer's warranties/guarantees you can rely on to protect your investment.
When you need new roof installation or a source of information on the roof types available for your project, call the Houston roofing contractor you can trust that has over 30 years of professional experience in the roofing industry: call the Houston roofing contractors at Roofs R Us today!
Services & Products Our Houston Roofing Contractors Offer
Roofing
Roof Types
Shingles
Wood Roofing
Metal Roofing
Flat Roofing
Roofing in Houston
Houston Roofing Contractor
Roof Replacement
Roof Installation
Roofing Shingles
Houston Roofing
We Provide Roofing in the Following Towns in Texas
The Woodlands, TX | Conroe, TX | Houston, TX | Austin, TX | Dallas, TX | Corpus Christi, TX | Amarillo, TX | Sante Fe, TX | Brookshires, TX | Hitchcock, TX | View More Service Areas
Recent Articles about Roofing
CHOOSING HOUSTON ROOFING CONTRACTOR - Finding a Houston roofing contractor for your roofing needs is easy if you know how to spot a good one. Roofing repairs and replacements should be handled by professionals that you can trust. The easiest and best way to find a one is to ask friends for recommendations.  You can also go online to search for…
FINDING AND HIRING A GOOD HOUSTON ROOFER - A good Houston roofer comes in handy when your roof is on the verge of falling or already severely damaged. Sometimes the damage just needs to be repaired and sometimes it needs to be replaced. It is best to leave this job to a roofing contractor since it is a difficult task. If you have…
If you are looking for a Houston Roofing contractor then please call 936-203-1299 or complete our online request form.