Houston Storm Damage Repairs
Serving Houston, Austin, College Station, and Other Lone Star Cities
Providing Residential and Commercial Storm Damage Repairs to All of Texas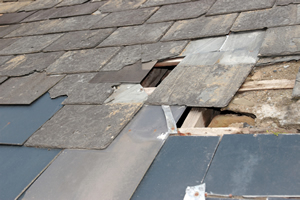 Has your roof been damaged by the most recent storm? Or perhaps you aren't sure if the last storm caused any damages, but you've noticed your neighbors are getting visits from roofers for repairs or roof replacements? Whatever the case may be, you can rely on the Houston storm damage repair experts at Roofs R Us to take care of all your roofing needs, no matter where you are located in the State of Texas. Our Houston storm damage repair specialists offer reliable service and use quality roofing materials to ensure our residential and commercial clients receive outstanding results, whether they only need a few minor roof repairs or a complete roof replacement because of storm damage.
Storms in Texas, especially those involving hail, can do a number on roofs. Roof damage caused by storms can range anywhere from a few shingles being blown away by strong winds or devastating holes and pits caused by hail stones. Whatever your roof needs, you can count on Roofs R Us to take care of it. We'll provide you with an honest evaluation after our team does a through roof inspection, and then we'll provide you with solutions for addressing the storm damage your home or business has suffered. From the roof to the siding to the gutters and windows, you can count on your Houston roofing contractor at Roofs R Us to fix it all.
Services Our Houston Storm Damage Repair Contractors Offer
Storm Damage Repairs
Hail Damage
Siding Repair
Fix Roofing
Roof Repair
Shingle Replacement
Storm Damage Repairs in Houston
Houston Roofing Contractor
Gutter Repair
Storm Damage
Roofing
Houston Storm Damage Repairs
We Provide Storm Damage Repairs in the Following Towns in Texas
The Woodlands, TX | Conroe, TX | Houston, TX | Austin, TX | Dallas, TX | Corpus Christi, TX | Amarillo, TX | Sante Fe, TX | Brookshires, TX | Hitchcock, TX | View More Service Areas
Recent Articles about Storm Damage Repairs
WHEN ARE HOUSTON ROOF REPAIRS NEEDED - If you find your umbrella important to shield you from the heat of the sun and the heavy rainfall, then your roof should be more important. Roofs keep and your family dry during the rainy days, warm during the winter and away from the extreme heat of the sun during summer. Keeping your roof in…
CHOOSING HOUSTON ROOFING CONTRACTOR - Finding a Houston roofing contractor for your roofing needs is easy if you know how to spot a good one. Roofing repairs and replacements should be handled by professionals that you can trust. The easiest and best way to find a one is to ask friends for recommendations.  You can also go online to search for…
If you are looking for a Houston Storm Damage Repair contractor then please call 936-203-1299 or complete our online request form.