Houston Gutters
Serving Houston, Austin, College Station, and Other Lone Star Cities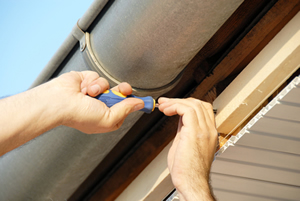 The gutters are an integral part of any home in the Houston Metro area, acting as one of the first lines of defense against the weather, the rain in particular. Clogged gutters or a home without a gutter system installed result in a variety of structural damages and other problems for the homeowner, most of which include water damages because, without properly functioning gutters, there's no way for the water to be channeled off the roof and way from the house. So Houston gutters require constant maintenance to continue working properly to carry rain water away from the home, saving your roofing and the walls of the house from water damages.
If your Houston Metro area home does not have a proper gutter system installed, or if your current gutters could use some repairs, call the gutter experts at Roofs R Us today to schedule service. Our Houston gutters are known for their superior quality construction and affordable pricing, and our talented team of technicians can help you with everything from gutter installation to gutter repairs, replacement, and advice on what type of gutter protection system will help make your home maintenance a little easier. Tired of cleaning the gutters all the time? Ask us about leaf guards and other gutter protection systems that can reduce the amount of work you have to put into keeping your Houston gutters in top shape.
At Roofs R Us, we are more than just a Houston roofing contractor. We are the company you can trust to take care of all your exterior remodeling needs, from installing new gutter systems to replacing and strengthening storm damaged siding. Let us take care of your Houston gutters and exterior home improvement needs today, and boost your home's curb appeal and protection.
Our Houston Gutters Contractors Provide These Services
Gutters
Leaf Guards
Downspouts
Gutter Protection
Gutter Repairs
Gutter Installation
Gutters in Houston
Houston Roofing Contractor
Gutter Replacement
Guttering
Roofing
Houston Gutters
We Provide Gutters in the Following Towns in Texas
The Woodlands, TX | Conroe, TX | Houston, TX | Austin, TX | Dallas, TX | Corpus Christi, TX | Amarillo, TX | Sante Fe, TX | Brookshires, TX | Hitchcock, TX | View More Service Areas
Recent Articles about Gutters
WHEN ARE HOUSTON ROOF REPAIRS NEEDED - If you find your umbrella important to shield you from the heat of the sun and the heavy rainfall, then your roof should be more important. Roofs keep and your family dry during the rainy days, warm during the winter and away from the extreme heat of the sun during summer. Keeping your roof in…
CHOOSING HOUSTON ROOFING CONTRACTOR - Finding a Houston roofing contractor for your roofing needs is easy if you know how to spot a good one. Roofing repairs and replacements should be handled by professionals that you can trust. The easiest and best way to find a one is to ask friends for recommendations.  You can also go online to search for…
If you are looking for a Houston Gutters contractor then please call 936-203-1299 or complete our online request form.