Houston Roof Repairs
Serving Houston, Austin, College Station, and Other Lone Star Cities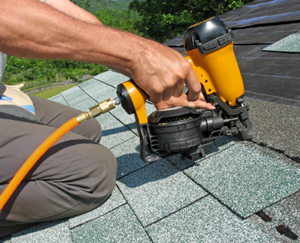 Roofs R Us is an expert when it comes to Houston roof repairs. Our service is top notch, and our contractors are experienced in both residential and commercial roofing system repairs, from fixing roof leaks to replacing shingles to repairing extensive storm damages. Rest assured that our Houston roof repair contractors have the skills and tools to ensure your damaged roofing is fixed in an efficient manner with expert care.
The worst thing you can do for a Houston metro area roof in need of repairs is to ignore it. Neglecting to have your roof repaired quickly will lead to more costly roof repairs later - and potentially a complete roof replacement if the damages are left unattended for too long. While roofing systems are built to last and take the brunt of whatever Mother Nature throws at us, without the proper repairs and maintenance, even the strongest roof can suffer irreparable damages.
So don't wait around for your roofing problems to get worse. Call the Houston roofing contractor you can rely on for prompt, professional roof repairs: Call Roofs R Us at 936-203-1299 today!
Services Our Houston Roof Repairs Contractors Provide
Roof Repairs
Roof Leaks
Storm Damage
Roofing Systems
Solutions to Roofing Problems
Roof Replacement
Roof Repairs in Houston
Houston Roofing Contractor
Shingle Replacement
Roofing
Repair Roofing
Houston Roof Repairs
We Provide Roof Repairs in the Following Towns in Texas
The Woodlands, TX | Conroe, TX | Houston, TX | Austin, TX | Dallas, TX | Corpus Christi, TX | Amarillo, TX | Sante Fe, TX | Brookshires, TX | Hitchcock, TX | View More Service Areas
Recent Articles about Roof Repairs
WHEN ARE HOUSTON ROOF REPAIRS NEEDED - If you find your umbrella important to shield you from the heat of the sun and the heavy rainfall, then your roof should be more important. Roofs keep and your family dry during the rainy days, warm during the winter and away from the extreme heat of the sun during summer. Keeping your roof in…
CHOOSING HOUSTON ROOFING CONTRACTOR - Finding a Houston roofing contractor for your roofing needs is easy if you know how to spot a good one. Roofing repairs and replacements should be handled by professionals that you can trust. The easiest and best way to find a one is to ask friends for recommendations.  You can also go online to search for…
If you are looking for a Houston Roof Repairs contractor then please call 936-203-1299 or complete our online request form.