Are You Looking For a Conroe Roofing Contractor Today?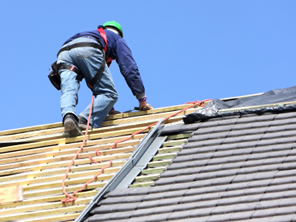 If you are looking for a reliable Conroe roofer, you've found one! Roofs R Us is the premier Conroe roofing company that residential and commercial property owners rely on for all their roofing service needs. From top quality roofing products from leading manufacturers like GAF, Owens Corning, and Certainteed, to the expert craftsmanship our Conroe roofing contractors provide all of our clients, no matter how large or small the project is, it's no wonder why Roofs R Us is the preferred roofing company in Conroe.
Roofs R Us delivers dependability, longevity, and building strength through our roofing and exterior remodeling services. As a professional Conroe roofing contractor, we have a record of success based on years of professional performance. When you select Roofs R Us to serve as your Houston roofing contractor, you can rest assured that you are investing in guaranteed construction methods and quality products. Also, you get unsurpassed performance and reliability. We stay ahead of the competition through quality and top-notch roofing services and by providing our clients in Conroe with top rated roofing materials, vinyl siding, gutters and replacement windows.
So whatever your home improvement plans are, remember that Roofs R Us is the roofer and exterior remodeling expert you can trust to get the job done with superior quality results!
Roofs R Us - Conroe Roof Repairs
You take care of the interior of your home and the exterior to ensure your Conroe house not only looks good, but stays in good condition. The same should be so for your Conroe roof.
It is important to invest in regular Conroe roof inspections so you know exactly what's going on with your roof, and can schedule any necessary repairs or maintenance work as needed to ensure the strength and longevity of your roof is kept entact. Not scheduling Conroe roof repairs in an appropriate time frame could lead to the deterioration of your roof - and an expensive roof replacement sooner than you planned for.
At Roofs R Us our roofing contractors are certified professionals that can take care of all your Conroe roof repairs. From replacing storm damage roofing to taking care of roof leaks, our team of Conroe roof repairs experts are the ones you can trust for quality, cost effective solutions for roof damages.
Conroe Storm Damage Repairs
Conroe roof repairs are needed for a variety of reasons, and of the many causes of roof damages, storm damage and poor maintenance are two of the most prevalent. It is important to have Conroe storm damage repairs taken care of quickly, because the later you wait to get around to hiring someone to take care of your Conroe storm damgae repairs, the more extensive the damage will be, which means more money out of your pocket.
Roofs R Us is a Haag Certified roof inspector as well as a 1st Choice Certified roof inspector. If the roof of your home or business in Conroe has been affected by storm damages, give us a call immediately to schedule a proper roof inspection so we can provide you with an honest evaluation on the condition of your roofing and any necessary repairs that may be needed to ensure your roof continues to protect you and your investment.
Conroe roofing contractor
Conroe roofing company
Conroe roof repairs
Conroe storm damage repairs
Conroe flat roofs
Conroe metal roofs
Conroe roofing service
Conroe roof replacement
Conroe roofer
Conroe roofing
Conroe vinyl siding
Conroe roof inspection
Conroe Roof Replacement
Are you in need of a professional Conroe roof replacement contractor? Before you get too far into your project and start narrowing down who you'll choose to work on your new roof, you might want to start looking at which roofing material to use. There are many different roof types to choose from, and this can make it difficult for homeowners to find the roofing material that is right for their home and budget.
Do a little research on the type of roofing you prefer, and then ask your contractor about the products they have available that will fit both your aesthetic preferences as well as provide your home with quality protection from the elements. Some roofing types you may consider include:
Roofing Shingles - economical, classic, a popular standard type of roofing material
Metal Roofing - highly durable; some metal roofing products now imitate the look of shingles
Tile Roofing - sturdy and beautiful, but after requires additional structural support
Flat Roofing - specialized roofing, typically used for commercial properties; requires frequent maintenance and proper installation for long lasting results
Most of us are guilty of neglecting Conroe roof replacement when it is needed. This is understandable, since replacing a roof can be a major investment; but this part of the house is very important to the structural integrity of a house. Often, the roof is already leaking and rusting when we recognize there is a major problem, but that can change if you include roof repairs and routine inspections as part of your home maintenance plan.
The Services We Provide in Conroe, TX
If you are looking for a Conroe roofing contractor then please call 936-203-1299 or complete our online request form.