Roofing Services That Bryan Homeowners Can Rely On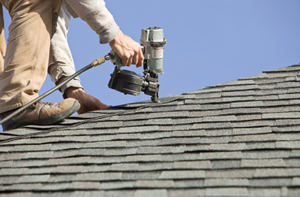 When the time comes that you find yourself in need of an expert Bryan roofing contractor, will you know who to call on? The average homeowner makes the mistake of waiting until they are in need of emergency services to locate a pro to work with. Wise homeowners know they should familiarize themselves with the local leading service provider before any major help is required. Those who invest the time to find the best know that Roofs R Us is the roofing contractor to trust in. We have earned the impeccable reputation that we have by investing nothing but excellence into all that we do, from our quality roof inspections to our comprehensive repairs and more. We take this line of work seriously and that is evident in the results that we are able to deliver for each client, on every job. Give us a call today to find out more about what we have to offer you and your Bryan home.
Bryan's Top-Notch Storm Damage Repair Team
It's important to know a few things about the process involved in storm-related damages and repairs. Even if you don't think you have taken on any damages during a recent storm, it's best to let a professional be the judge of that. Too many homeowners assume a visual scan from the ground is enough of an inspection when the truth of the matter is you should always get a professional inspection following severe weather activity.
Keep in mind that you also only have a small window of opportunity to file a claim with your insurance. If you miss that window, you are going to be paying for your repair needs out of your own pocket. The best way to avoid that is to act quickly.
Any storm involving hail means you need to have your rooftop professionally inspected. Hail can easily destroy your roof beyond repair, leading to the need for expensive replacement. It's important to act swiftly in order to avoid both interior and further exterior damage to your home. When you count on our professional roofers at Roofs R Us, you're putting your home in the hands of highly skilled professionals who know exactly how to assess and repair your roof after a storm.
Reliable Roof Repairs In Bryan
While roof repairs can be expensive and somewhat of a pain, it's a much better alternative than paying for a complete roof replacement far before you have to. Here are some common roof repairs our Bryan roofing contractors can take care of for you:
- Leaks: Leaks and moisture, in general, are hazards to your roof. If water permeates your roof, it will damage it and likely the infrastructure past it. If you have a leak and you don't get it taken care of quickly, it could cause extensive damage, requiring a complete roof replacement or more. So, make sure to keep up with routine maintenance and repair for the health of your roof.
- Shingle/Tile replacement: Your roof could last upwards of 20+ years with proper maintenance and repairs. You don't want to put off getting roof repairs until it's too late and end up having to replace your entire roof when you just needed to replace a shingle or two.
- Quality repairs: You don't want to let just anyone work on your roof. Let an experienced roofing company like Roofs R Us take care of your roof repairs for you. You could end up paying more by doing DIY repairs or hiring roofers that are under-qualified.
Roof Replacements For Bryan Homes
At some point in time, every roofing system needs to be replaced. Knowing when to replace a roof is difficult if you do not have the requisite knowledge and experience. Our Bryan roofing experts can inspect your roof to help you determine if you would benefit more from repair services or a complete replacement. With our guidance, you will always make the best choices when it comes to maintaining your roofing system.
Generally speaking, a well-maintained asphalt shingle roof should last between 20 and 25 years. Other roofing materials like metal can last even longer. However, if your roof is damaged and nearing this age, it may be more cost-effective and more beneficial in the long run to replace it. Again, our experts can help you with this decision-making process.
During our roof replacement services, our professionals have two specific goals-- we want to customize the beauty of your home to your unique tastes and provide you with a roofing system that will provide your property with the highest level of protection for the longest time period possible. With our help, you will be able to maximize the value of your investment. After we replace your roof for you, your property will look its absolute best and will be properly protected for decades to come. You and your family are guaranteed to be completely satisfied with your new roof well into the future.
If you are looking for a Bryan roofing contractor then please call 936-203-1299 or complete our online request form.