Wharton Roofing Contractor – The Best Choice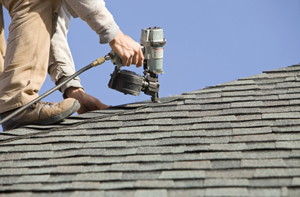 If you are in the market for the best Wharton roofing contractor then you have certainly come to the right place. Since 2002 Roofs R Us has been taking care of the homes of local residents in the Wharton and surrounding communities. And there are plenty of reasons why we have quickly become number one.
Our team's dedication to the finest workmanship, products used, customer satisfaction and pricing are a large part of it. We are BBB accredited and also have the honor of being both a First Choice and Haag Engineering Certified Roofing Inspector. We take the business seriously and it shows.
Some of the other important services we offer include but are not restricted to:
Storm repairs
Gutters
Roofing repairs
Replacement roofs
Vinyl siding
And that's just to name a few
Don't settle for less than the best when it comes to taking care of your home.
Wharton Roof Repairs
The most important thing you can do is take care of Wharton roof repairs as soon as you know you need them. We know it can be easy to put this on a task list "to-do" later but this will only lead to bigger problems. Ignoring roofing issues can lead to much worse problems and maybe even the need for roof replacement.
Our experts are skilled at conducting an inspection and pinpointing problems. From there we can discuss the options with you. And then we can work quickly to fix the issue and make your roof as good as new again – if not better.
Wharton Storm Damage Repair
One of the most common requests we get is for Wharton storm damage repair service. Too many homeowners do a DIY inspection following a storm and think there is nothing wrong. Problem is you could be wrong.
Let us do an extensive inspection to make sure there is no damage. And if there is we can even help you file your claim. Don't take chances when it comes to repairing your roof following any severe weather related incidents.
Wharton Roof Inspection & Replacement
The bottom line is that we are number one when it comes to Wharton roof inspection and replacement tasks. Eventually your roof will need to be replaced but you don't want to let someone less than the best take on a job as serious as this. We have the skills, training and experience to handle this for you.
Contact us today so we can get started. And soon you will see firsthand why we are the number one choice for Houston roofing contractor services and more.
If you are looking for a Wharton roofing contractor then please call 936-203-1299 or complete our online request form.