Important Storm Repair Tips for Your Austin Roofing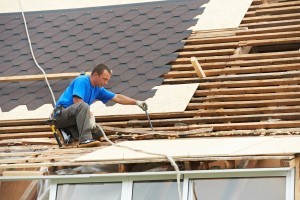 The most important part of your Austin commercial or residential building is the roofing. This is what protects the rest of your home, including the people and belongings inside. So even if your rooftop is slightly damaged by a storm, or any other event, you could be risking your entire structure. So it is important to deal with an inspection or necessary repairs as quickly as possible, following this type of event.
After the Storm
The most important thing to take care of, once you have been through any severe weather related activity, is to have your rooftop inspected. Even if you think it looks fine, you are not a trained expert. Once damage is sufficient enough for you to notice with the naked eye, it is usually already too severe. You need to let trained and experienced professionals take care of this for you. You want to avoid the risk of letting the damage get any worse so it is important to act quickly.
Another reason it is important to act quickly is that you only have a small window of time to act when it comes to working with your insurance company. If you discover something is wrong after that deadline has passed you are, most likely, going to be stuck paying for the repair expenses out of your own pocket. Don't take chances when it comes to getting the repairs you need and the quality of service required to get the job done.
Storms, especially hail, can be quite destructive to roofing, siding, gutters, and more. If left ignored these problems will get worse, and rather quickly. So what would have originally been just a quick and relatively inexpensive repair could end up being an costly, premature replacement. The key to getting the quality of work you need and deserve comes down to working with the right team to make it happen.
Call on Our Pros
At Roof R Us, you can rest assured that you are getting the quality of work that you deserve. Since 2002, we have been the name locals trust in for their residential and commercial roof service work. Now, we look forward to having the opportunity to work with you and showing you in person how we earned the flawless reputation we have.
For all of your Austin roofing contractor service needs, give our pros a call. You need to be able to protect your home, starting with the most important aspect of it. Give us a call today and let's get started with your repairs right away.
More Tips on Roofing (Roofing)
If you are looking for a Houston roofing contractor then please call 936-203-1299 or complete our online request form.