Houston Storm Damage Repair
Tips To Be Prepared For Houston Storm Damage Repairs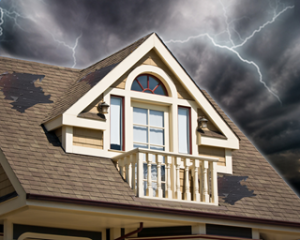 When the weather is great here in Houston, we don't think much about storm damage repairs. But the savvy homeowner will have been prepared for storm damages from hail, hurricanes, or high winds.
Have a roof repair contractor on hand prior to any storms that could damage your roof.
Knowing who you will call when storms come along and destroy your roof is a godsend. Storms hit neighborhoods and often entire cities here in the Gulf Coast area. Homeowners will be scrambling to call in a contractor after storm damages in Houston, which means all roofers in the area will be very busy.
Ensuring you already know who to call will give your roof first attention.
Don't choose fly by night roofing companies who take advantage of homeowners during storms.
There are many roofing companies who travel from city to city across the states to take care of storm damages. You'll want to be sure you are choosing a local roofing company who will stand behind their workmanship and products.
Many homeowners find out later that the workmanship or products were of poor quality and that they can't seem to find the roofing company who did the work. A local company will serve you better and care more about their customers.
This means it's even more important for you to be prepared by establishing an advanced relationship with a local roofing company you know you can trust.
Make sure the storm damage contractor also offers siding, gutters, and replacement windows.
Storms don't just damage roof tops. You could have windows shattered, hail or wind damages to the gutter system, and siding damages.
It's always much better to hire a roofing contractor in Houston who can take care of all your exterior storm damages as you get a better deal and don't have to deal with hiring separate contractors.
A good storm damage repair contractor is also able to perform professional roof inspections.
While an insurance company will send out their own storm damage inspector, this is only to ensure the company is represented. You need representation as well to ensure you get the most from claims.
Storm damages can offer you the opportunity to replace sub-grade materials that may otherwise not be covered by the claim if you didn't have your own roof inspection done.
With a roof inspection performed by your professional contractor, parts of the roof that may no longer conform to building code could be replaced as part of the claim if the damages are properly documented.
More Tips on Roofing
If you are looking for a Houston roofing contractor then please call 936-203-1299 or complete our online request form.